Mt. Qingcheng (Qingcheng Shan) Tours and Activities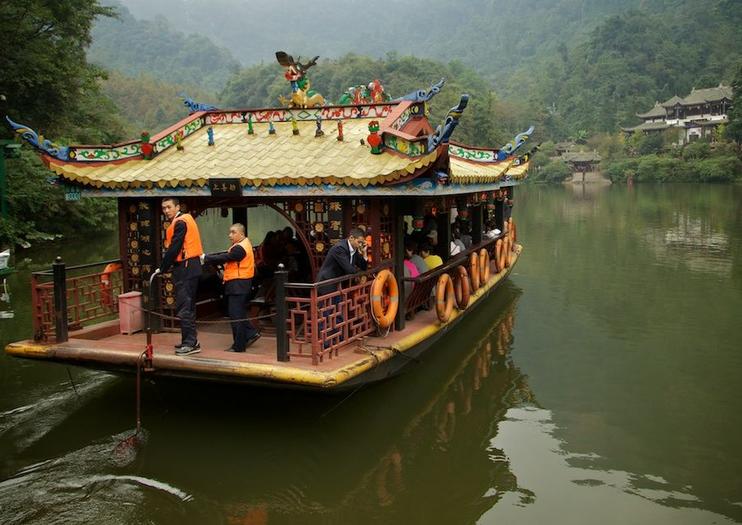 Regarded as the birthplace of Taoism, and one of its most sacred mountains, Mt. Qingcheng (Qingcheng Shan) has a history dating back 2,000 years. Surrounded by peaks and lush forests, Mt. Qingcheng offers a peaceful escape from the big city of Chengdu, and there are plenty of temples, historical sites, and cultural relics for visitors to enjoy.
The Basics
There are two main parts to Mt. Qingcheng: the front and the rear. Most of the temples and other historical and cultural attractions can be found in the front, including Jianfu Palace, Shingqing Palace, and Tianshi Cave. The rear mountain is known for its tranquil natural scenery and is a popular area for hiking. The most popular route to climb the front is to take a ferry across Yuecheng Lake, and then a cable car up, before walking the final 20 minutes to the summit. Just that doing so doing so will bypass a number of temples and other historic and cultural sites.
Many visitors combine a trip to Mt. Qingcheng with nearby Dujiangyan Irrigation System (the combined area is a UNESCO World Heritage Site). While it's possible to visit independently, visitors will gain a better appreciation of the Taoist significance of Mt. Qingcheng through a guided tour.
Things to Know Before You Go
Mt. Qingcheng is a must-visit for those interested in Taoism.

There are separate entrance fees for the front and the rear. There is an additional cost to take the boat and the cable car.

Bring a jacket or layers if visiting in the fall or winter.

Wear sturdy and comfortable shoes if planning to hike.

A full day tour of Mt. Qingcheng and Dujiangyan Irrigation System can take upwards of 10 hours.

How to Get There
Mt. Qingcheng is located 40 miles (64 kilometers) east of Chengdu. For those not visiting on a tour, take the metro to Xipu, then a train to Qingchengshan station, and finally a bus to the scenic area entrance. You can also take a bus to Qingchengshan from Xinnanmen Bus Station in Chengdu. From Dujiangyan, take bus 101 or 102 to Mt. Qingcheng.
When to Get There
Mt. Qingcheng is very popular with Chinese tourists. Avoid visiting during weekends and public holidays, especially the May and October national holidays.
Top Sights at Mt. Qingcheng
Jianfu Palace is the best preserved temple on the mountain. It was built during the Tang Dynasty and is still a fully functioning Taoist temple with over 100 monks. Situated at 3,280 feet (1,000 meters), Shangqing Palace dates from the Jin Dynasty and was rebuilt in the 1800s. Tianshi Cave is where ancient Taoist master Zhang Daolin was said to have lived. And from Laojun Pavilion, take in the stunning views over Dujiangyan City below.
Read More
Show Less
70 Tours and Activities to Experience Mt. Qingcheng (Qingcheng Shan)
Frequently Asked Questions
The answers provided below are based on answers previously given by the tour provider to customers' questions.
Q:
What's the best way to experience Mt. Qingcheng (Qingcheng Shan)?
---