To limit the spread of the coronavirus, attractions may be closed or have partial closures. Please consult government travel advisories before booking. The WHO is closely monitoring the coronavirus and more information can be found
here
.
Things to Do in Kaohsiung
Taiwan's second largest city was once a gritty, industrial port town, but in recent years it has undergone a revitalization that makes it a must-see destination for inventive food, endless sun and some of the biggest night markets in Taiwan. The Kaisyuan Night Market—open Monday, Wednesday, Friday, Saturday and Sunday—has 1,000 stalls serving an incredible variety of foods, from fried squid to papaya milk.
From its position at the southern end of the island, Kaohsiung also boasts beautiful year-round weather. Take a ferry ride to Cijin to spend a day at the beach and sample fresh seafood along the waterfront, or opt for a walk or bike ride around Lotus Lake in the Zuoying District of North Kaohsiung, which offers glimpses of eight temples. While there you can visit the Dragon Tiger Pagodas—enter through the dragon's mouth to explore the pair of towers before leaving through the tiger's mouth.
Read More
Show Less
---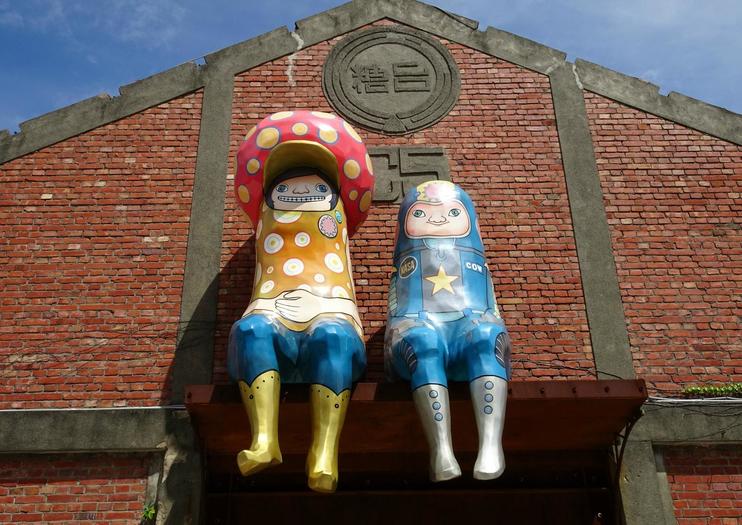 Once a forgotten abandoned warehouse, this contemporary hub for art and design has become a destination for hip and cultured visitors to Taiwan. Popular exhibits have included 3D street art, automotive art, and even technological displays from gaming developers. In addition to artistic installations, music events and trade shows are also held in this unique space.
Read More
Show Less
The Wushanto Reservoir, located in the hills of Tainan County in Southern Taiwan, is a destination rich with local fish, indigenous plants, rare birds and dozens of species of butterflies. Referred to by locals as "Coral Lake" for its rocky shoreline, the reservoir was once the largest of its kind in Asia. Travelers love the epic views—particularly in the springtime, when brightly colored cherry blossoms are in full bloom.
Wushanto Reservoir is close to the Guanziling Hot Spring, where travelers flock to soak in one of the oldest—and most famous—natural springs. Various spas offering unique treatments like mineral pools and clay facials are located at the top of the mountain, offering incredible views during relaxing soaks.
Read More
Show Less
---