Day Trips to European Cities from London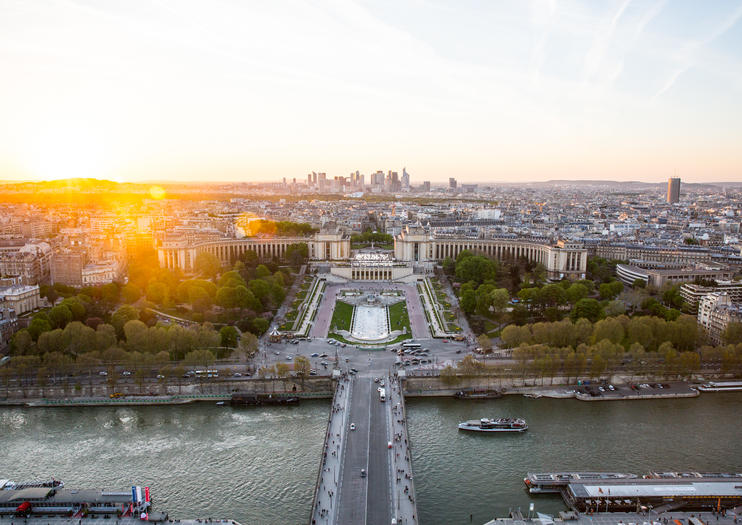 Just beyond London's bustling streets and famous sights lies a world of European adventure—all within easy reach by rail. See below for our top picks of urban day trips, from the romance of Paris to the scenery of Edinburgh, to enjoy from London.
Paris — 287 miles (462 km) from London
Board the Eurostar, journey under the English Channel, and disembark in Paris, where a full day of French art and culture await. Admire the City of Love's must-see highlights like the Arc de Triomphe and the Champs-Elysees on a walking tour, drift past the Eiffel Tower and the UNESCO World Heritage–listed banks of the Seine River on a sightseeing cruise, and perhaps pay a visit to the Palace of Versailles, the jewel in France's crown.
Edinburgh — 396 miles (637 km) from London
Edinburgh, Scotland's proud capital, boasts spectacular scenery, centuries of colorful history, and famous landmarks including the Royal Mile and Edinburgh Castle. Explore the UNESCO-listed medieval Old Town and neoclassical New Town on a hop-on hop-off bus tour to see top sights such as St. Giles Cathedral and the National Museum of Scotland at your own pace. Don't miss the chance to sample a wee dram at the famous Scotch Whisky Experience, formerly named the Scotch Whisky Heritage Centre.
Cardiff — 158 miles (254 km) from London
The capital city of Wales, Cardiff is a short and sweet train ride from London and makes an ideal day trip for those wishing to explore this British neighbor. Follow an expert tour guide on a walking tour to top attractions such as Cardiff Bay, Cardiff Castle, and the National Museum, gaining insight into centuries of rich Welsh history along the way. Finish your tour with a visit to 13th-century Caerphilly Castle, one of the largest castles in Great Britain.
Brussels — 226 miles (365 km) from London
From fine Belgian beers to traditional chocolates to UNESCO-listed architecture, there are plenty of good reasons to day trip to Brussels from London. Travel directly into the Belgian capital by Eurostar, then board a hop-on hop-off bus tour and enjoy the freedom to explore top attractions such as the Atomium, the European Parliament, and the Royal Palace at your leisure.
Read More
Show Less
---