Where to Find Wildlife in Singapore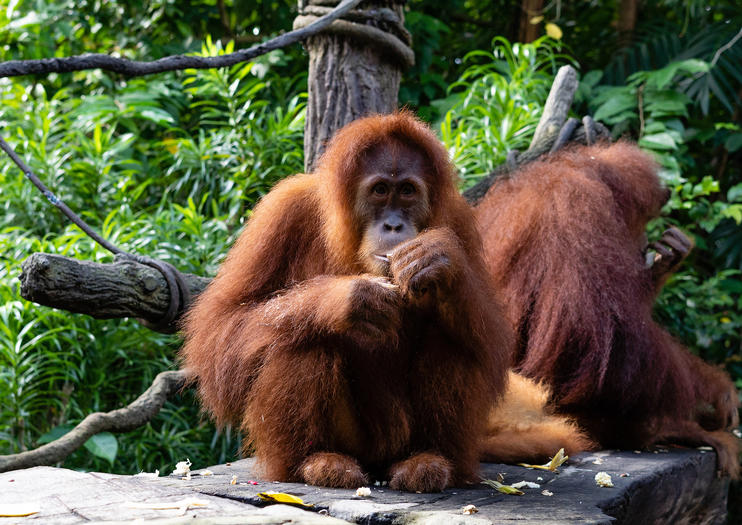 Singapore isn't exactly known for its nature reserves or national parks. Yet the island-nation is a great place for animal lovers due to its excellent zoo and wildlife parks, where visitors can observe animals in amazingly natural habitats. Here are our top picks for wildlife spotting in Singapore.
Jurong Bird Park
Stepping into Jurong Bird Park means stepping inside the world's largest walk-in aviary. Encompassing a 49-acre (20-hectare) swath of jungle, the bird park provides a home to some 8,000 birds representing more than 600 species. An air-conditioned tram connects the various exhibits, which are also accessible on foot.
Singapore Zoo
The Singapore Zoo, considered to be one of the best zoological parks in the world, is home to 2,800 animals of more than 300 species and the world's most successful orangutan breeding program. The philosophy of the rainforest–themed zoo includes thoughtfully landscaped habitats, minimal caging, and special viewing features, like elevated platforms or underwater windows to maximize your chances at seeing the animal residents.
Singapore Night Safari and River Safari
The Singapore Zoo also operates two safari experiences outside the bounds of the zoo itself. The most popular of the two is the Night Safari tour, where you embark on an after-dark safari into the jungle by tram and on foot to observe nocturnal critters in their naturalistic habitats in the world's first nocturnal zoo. On the River Safari, a newer offering, you enjoy a boat trip along the great rivers of the world to see the animals that live in and around the globe's freshwater environments.
Pulau Ubin
If you're craving a more natural animal encounter, consider a day trip to nearby Pulau Ubin. The mangrove forests of this island off Singapore's shores are home to a host of wildlife, including water monitors, hornbills, and pink dolphins. Keep an eye out for these and other animals during an eco-friendly kayaking tour.
Sungei Buloh Wetland Reserve
Singapore's first Association for Southeast Asian Nations (ASEAN) Heritage Park comprises wetlands, ponds, mudflats, and mangrove forests. An important habitat for migratory birds, the biodiversity-rich reserve has a new visitor center as well as several nature trails for spotting the park's resident animals.
Bukit Timah Nature Reserve
Situated on a high hill only a short way from Singapore's city center lies Bukit Timah Nature Reserve, one of the last areas of primary rainforest in the country. Some 40 percent of Singapore's native flora and fauna reside within this park.
Read More
Show Less
Singapore Tours & Activities (6)
Dining Experiences
For a unique experience in Singapore, enjoy a Singapore Zoo breakfast with orangutans. If you choose the option, enjoy a jungle breakfast buffet in the company of a family of orangutans. These great apes are part of Singapore Zoo's orangutan-breeding program, one of the most successful in the world. Snap pics with your new breakfast club and watch as they play around their habitat. Then take a tour of the zoo by tram to see the rest of the 3,600 animals. Not interested in breakfast? You can still purchase the zoo tour only.
---
Attraction Tickets
Combine two of Singapore's top attractions in one animal-filled day on this Super Saver. Spend the afternoon and evening at some of the most popular wildlife experiences in Asia—the River Safari and the Night Safari, affiliated with the Singapore Zoo. At River Safari, see more than 300 animal species from the world's freshwater river environments, from Amazon manatees to Chinese giant pandas. Then head to Night Safari for a tram ride—with skip-the-line admission—past open habitats where nocturnal animals spend their waking hours. Hotel pickup and drop-off are included.
---
Attraction Tickets
Don't miss the Singapore Night Safari, one of Singapore's top family attractions, located next to the Singapore Zoo. You'll explore the jungle park on an open-air tram, catching sight of nocturnal animals in authentically created habitats. Then follow a guide on a walking trail to see leopards and other wildlife up-close. You can also watch one of the nightly shows, and you have the option to upgrade to include dinner at Ulu Ulu Safari Restaurant.
4 hours&nbsp30 minutes

Free Cancellation
Learn More
4 hours&nbsp30 minutes

Free Cancellation
---
Nature and Wildlife
Escape downtown Singapore's busy streets for a half-day getaway on Pulau Ubin, a small, tranquil island off Singapore's northeast shore. On an eco-friendly kayaking tour, you'll paddle through mangroves to watch for marine wildlife like water monitors, hornbills and maybe even pink dolphins. Enjoy the rural atmosphere of the island, and learn about the local wildlife and ecology from a knowledgeable guide.
---
Attraction Tickets
Visit River Safari in Singapore for a wildlife experience themed around the world's freshwater rivers. Wander around multiple river habitats, from the Yangtze to the Mississippi, to encounter animals of all types, including the beloved giant panda. Learn about the native animals and plants that are found around the world's legendary rivers, and take a boat ride on the 'Amazon River,' if you wish (own expense). Hotel pickup and drop-off are included.
3 hours&nbsp30 minutes

Free Cancellation
Learn More
3 hours&nbsp30 minutes

Free Cancellation
---
Nature and Wildlife
Enjoy an outdoor escape from the hustle and bustle of downtown Singapore on Pulau Ubin, a small, tranquil island off Singapore's northeast shore. During an eco-friendly bike tour, you'll cycle around the island to look for native wildlife like wild boar, monkeys and water monitors. A knowledgeable guide will lead you past rural sights like fruit farms, mangroves and beaches while telling you about the island, where Singapore's only authentic 'kampungs,' (villages) still remain. Select a morning or afternoon tour time when booking. Bike-riding level is easy to moderate.
---
---